150 Clarendon St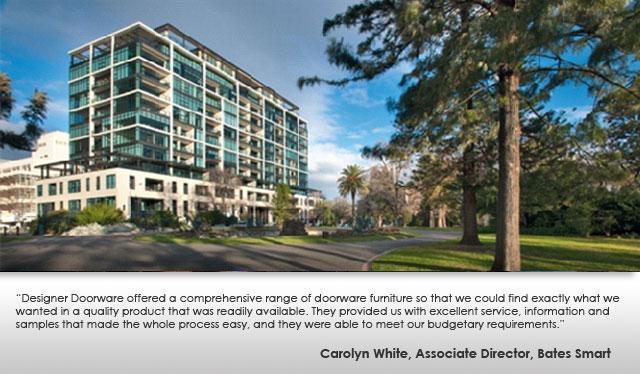 Introduction
Converting Melbourne's old Mercy Hospital site into luxury apartments was a precise, artistic endeavour for Bates Smart. Staying sympathetic to the historical setting while refurbishing and extending the building to create elegant apartments with magnificent views required door hardware of quality and understated luxury, which Designer Doorware was able to provide.
Bates Smart is a long-standing, innovative architectural firm, employing a philosophy of creative collaboration that generates unique, highly specific solutions for its clients. With a tireless approach to realising artistic quality, every project it works on is designed with individual expression and charm.
| | |
| --- | --- |
| Designer Doorware's diverse range of high quality and brilliantly aesthetic door furniture was exactly what Bates Smart needed to blend the architectural door hardware into their overall vision. | |
Project Brief
The project was to refurbish and extend the old Mercy Hospital site at 150 Clarendon Street to create 86 luxury apartments. The apartments were to be designed more like homes, well appointed with generous proportions and to include the spectacular views of the city fringe and the Fitzroy Gardens opposite.
Response to Brief

Bates Smart sought to reconcile the natural, tranquil and leafy East Melbourne environment with luxurious building design. A calming symmetry and simplicity of form was set in a warm, contemporary palette of detailed materials to provide a quiet, timeless elegance while respecting the historical character of the location.

Door hardware and accessories had to blend seamlessly into this design theme to provide the perfect level of finish.

Architectural Door Hardware Solution

The selection of door furniture and accessories was sharply focused on quality and a contemporary aesthetic that was very soft and elegant. Designer Doorware's Catalina handle in a polished chrome finish offered a pleasing tactile quality and solid feel that would perform and last over time.

Circular flush pulls FP902-90 with half moon grips were customised to suit a design criteria for large sliding doors. A thicker face plate was added for extra softness and comfort, while an additional inside wall enhanced the bucket for solid grip to make it easier to pull heavier doors. Edge pulls 2801, half moon DS1 doorstops and cylindrical DS4 doorstops were also included.

An array of matching accessories such as escutcheons, latches, hinges, cylinders, turn snibs, emergency releases and privacy locks, with external fittings all finished in polished chrome, ensured all doorware fitted and functioned perfectly.

Our range, availability of quality product and attentive custom design service, gave Bates Smart all that was needed to complete the project smoothly and affordably with a cohesive design.
Call our friendly, specialist consultants on +613 9300 8888 to find out how we can help you with invaluable design and manufacturing expertise, or email us.