BCG Constructions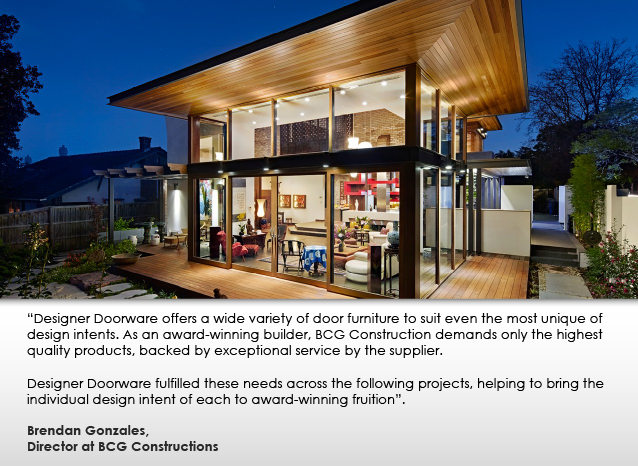 Introduction
Designer Doorware has long prided itself on the close relationships our team develops with clients – from architects and designers to building developers and, most importantly, the customer/end-user. BCG Constructions, a leading Melbourne-based construction company specializing in residential architectural designs is just one such client.
Headed by Brendan Gonzales, BCG's stature as a developer of custom-designed, high end projects has grown considerably in recent times, cemented by a raft of awards at the 2014 Victorian Housing Industry Awards and the 2015 Australian Housing Industry Awards. Designer Doorware supplied a range of door hardware for these prize residences, helping BCG's developments achieve an award-winning bespoke look and feel throughout.
What they Won?
Camberwell Development: Winner of the HIA Victorian Custom Built Home (over $2 million)
Designed and built to complement its owners' collection of art and antique furniture, this unique, "China Modern"-themed home required a seamless connection between old features and modern function, provided in style with Designer Doorware products such as:
Kew Townhouse: Winner Townhouse/Villa of the Year (Victoria 2014 & Australia 2015) & Kew Development: Runner Up Townhouse/Villa (over $700,001)

Cutting-edge design meets strong commitment to quality across these homes, with luxurious appointments and meticulous attention to detail throughout.Contemporary, yet timeless in their designs, Kew Townhouse and Kew Development feature Designer Doorware products including:
Custom-design entry handles and escutcheons
Ivanhoe: Winner Custom Built Home of 2014 & Winner Custom Built Home ($1-2 Million)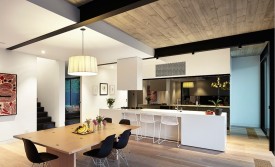 This ultra-modern two storey home features dark-stained smooth-finish oak floors (as well as textured-finish floorboards) and a variety of custom-designed joinery throughout.
To harmonize with the colour and texture of these sophisticated features, the following door architecture products were incorporated throughout Ivanhoe:
South Melbourne: Runner Up Victorian Renovation/Addition (over $1 Million)
This four storey inner-Melbourne townhouse is a contemporary urban dwelling with an emphasis on open-plan design throughout. Natural light filters through a façade featuring a multitude of stylish glass and aluminium doors, each complemented with Designer Doorware products such as:
That personal touch
In responding to the needs of our clients, Designer Doorware representatives take great lengths to ensure overall aesthetic is complemented by premium-quality, designer inspired door architecture. As a result, we apply ourselves to understanding the client's unique vision for a project and developing a tailor-made architectural solution that helps translate that vision into a superior individualised design outcome.
"Assisting a client to realize their vision for a project is a challenge we look forward to at Designer Doorware. And translating that vision into reality, with a bespoke feature the end-user can take pleasure and pride in – every time they use a door – is what we strive for, for clients like BCG Constructions."

Joanne Di Benedetto,
Architectural Sales at Designer Doorware
Call our friendly, specialist consultants on +613 9300 8888 to find out how we can help you with invaluable design and manufacturing expertise, or email us.