Lamborghini, Chicago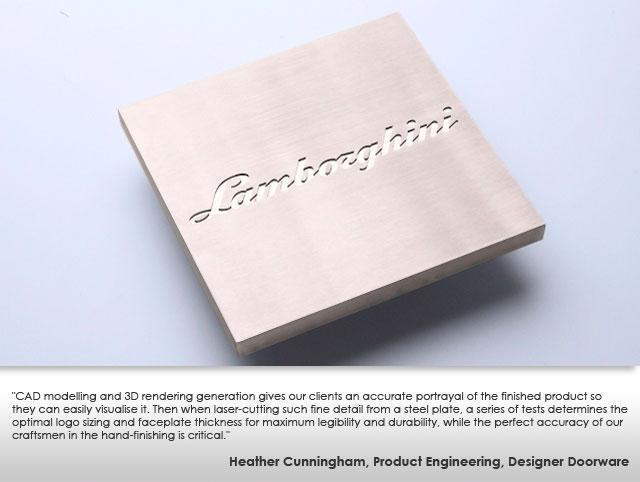 Corporate Doorware
Introduction

Italian carmaker, Lamborghini, is known as a manufacturer of some of the world's most prestigious and sought-after super sports cars with over 120 dealerships worldwide. When Lamborghini planned to open a new showroom in Chicago, they appointed DMAC Architecture, one of Chicago's leading architectural firms, to design the space that would deliver an authentic Lamborghini experience. Designer Doorware was asked to work in collaboration with the Architects to help create the finishing touch.





Design Brief

The design brief was to create a contemporary, branded door handle and provide complementary doorware to be featured throughout the showroom. Creating the branded door handle required a range of design alternatives to be developed to help our clients decide on the design that best portrayed the brand and reflected the showroom styling.

Customised Door Hardware Solution

Our in-house design and engineering team developed a series of concept designs and produced 3D computer generated renderings to enable our client to visualise the final product. The winning design was a square entrance handle featuring the Lamborghini script logo, centred and laser cut from a face plate of stainless steel with a satin finish.
This face plate was overlayed on a brilliantly polished stainless steel handle that served as the logo fill-in, brightly showing through from underneath. The inner edges of the logo cut-out were carefully smoothed, along with all joins and edges to create a sleek, high quality finish for the one-of-a-kind piece. This custom designed entrance handle became a highly impactful and strikingly impressive brand insignia.
To complement its design, square-line pull handles and cabinet handles were selected to feature on internal doors around the showroom, also finished in matching satined stainless steel.

For more information view Custom Products and Step by Step Hardware Design, or you can download our Custom Design Brief and email us.
Call +613 9300 8888 to speak with our friendly, specialist consultants and find out how we can help you with invaluable design and manufacturing expertise.