Project Management
A complete solution to make the acquisition of door hardware easy
Bringing your architectural hardware together is what we do best. Some of the many and varied factors we take into account are:
Fire Rating Standards of Australia and other countries
Product design, selection, application and access control
Door scheduling, doorware packing and the staging of deliveries
On-site installation training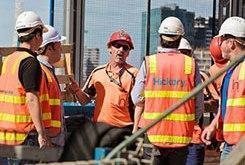 Addressing any pre-installation issues is all part of the service to meet our client's exacting requirements.

Keeping your project on track to successful completion
We understand that our clients are working to tight deadlines and budgets, and that variables like weather and on-site access can present issues that may impact timing and cost.
With a high awareness of these factors, we manage our client contracts with the utmost of care and attention to detail. We work closely with Building Project Managers, Site Foremen and Tradesmen. We encourage regular, open communication, closely monitoring and managing projects to ensure your door hardware project is delivered to expectation.
Our work on high profile projects with long-term clients shows we can make the acquisition of architectural hardware a successful and rewarding all-round experience.
Call our friendly, specialist consultants on +613 9300 8888 or email us to find out how we can make door hardware project management easy.