Doorware Scheduling
Our complimentary doorware scheduling service can save you time and money with thorough planning. Our technical expertise will ensure your project meets the Building Code of Australia (NCC) and Fire Rating Standards, and that access requirements are correctly scheduled to suit your project's needs.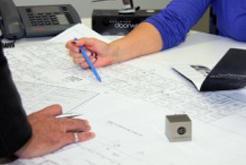 Scheduling makes door furniture installation easy
Just provide us with your floor plans and we'll prepare a detailed doorware schedule indicating where all the doors, door handles, escutcheons, locks, hinges, and other door hardware accessories are assigned in your new project. You can forward the schedule to your Tradesmen for ease of installation and the smooth completion of your project.
Address all your door hardware costing and security needs
As well as assisting with planning the right security, access control and keying systems, this schedule can also form the basis for Value Engineering cost improvement and the estimation process to deliver the best value solution for your project. It means you don't have to revisit a project once the door hardware schedule has been drafted and assures maximum safety and peace of mind.
Call us on +613 9300 8888 or email us and talk to our friendly, specialist consultants about creating your complimentary door hardware schedule.
*To email plans with file sizes over 10MB, please use a large file transfer service such as Aconex or We transfer (no sign up required).